Our tips for beginners
More and more people are switching from glasses to contact lenses, which offer lots of excellent advantages.
Here are some valuable tips for both beginners and long-time contact lens wearers.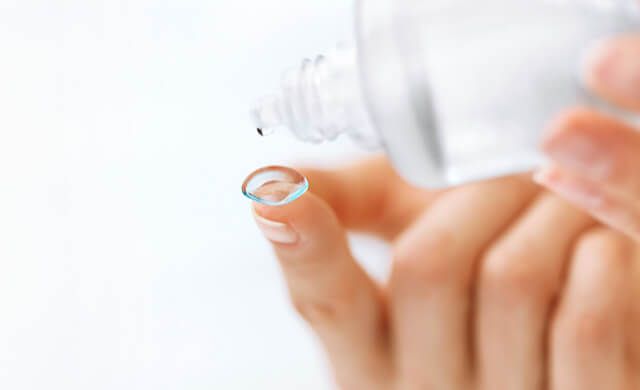 Only a specialist can determine your visual acuity, vision problems which need to be corrected, and recommend the perfect contact lenses for your eyes.
Never buy lenses without the advice of a specialist, as this can seriously damage the health of your eyes.
1. Good practice
The first contact lens fitting is a difficult moment for everyone. Don't hesitate to ask your optician for help so they can advise and assist you in this first step.

Always wash your hands before putting in your contact lenses.

Don't be afraid of damaging your lenses when you first put them in! The materials used are very strong and flexible.

Always start with the same eye. This way you can avoid mixing up your lenses.
2. Lens fitting
Place the contact lens on your index finger. The lens should be facing upwards like a semicircle. If the sides of the lens are bent outwards, your lenses are upside down, so you need to turn them inside out.

With the same hand that is holding your lens, stretch your lower eyelid downwards.

With your other hand, lift your upper eyelid with your middle or index finger.

Now move it towards your eye. It is important that you keep the lens close to your eye as this will ensure a smoother pose.

When you have placed it on your eye, look down and release your eyelid. Then close your eyes and blink so that the lens is correctly positioned in the middle of your eye.
3. Removal of lenses
Now that you've put in your contact lenses, you can relax because the hardest part is now behind you. You will find that removing your lenses is much easier.
Of course, before you do this, you should wash your hands, just as you do when you insert your lenses.
Stand in front of your mirror, open your eyes, and look up.

Pull your lower eyelid down and move the lens to the centre of the cornea. It is important to be gentle, and above all, not to exert strong pressure on your eyes.

Then gently pinch the lens between your thumb and forefinger and remove it.

Now clean your lenses with a lens cleaner and place them in their storage boxes. Don't forget to put some lens cleaner in the box to preserve them.

Remember that for rigid lenses, there is a suction cup that makes it easier to remove them.
4. Cleaning products
As mentioned above, contact lenses should always be cleaned after removal and stored with lens care products.
We recommend all-in-one solutions for optimal comfort: